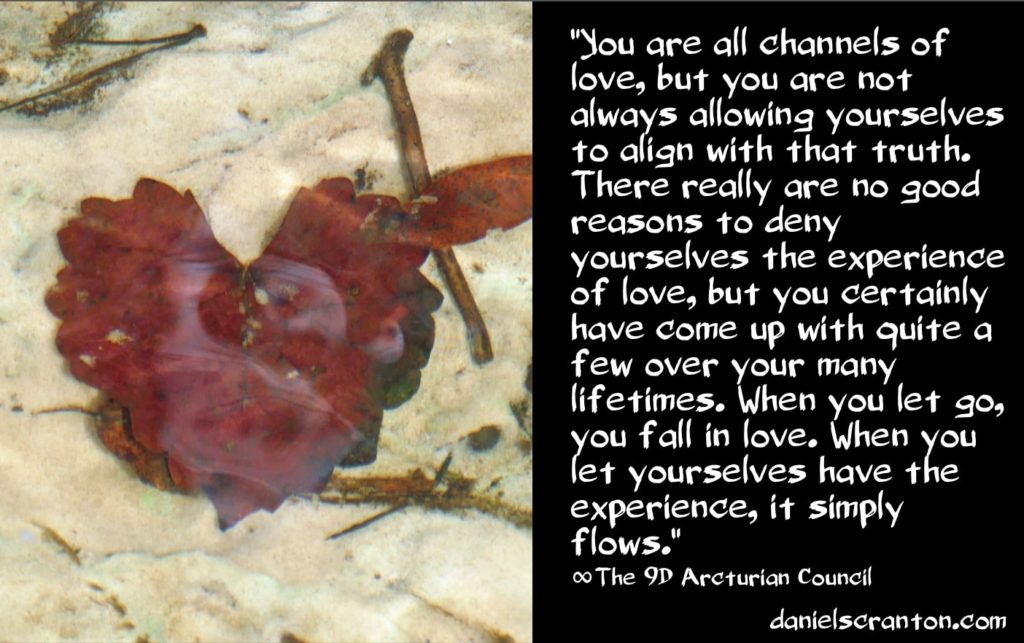 Feel the Love Flow ∞The 9th Dimensional Arcturian Council
"Greetings. We are the Arcturian Council. We are pleased to connect with all of you.
We are excited to bring you each and every update that we do. We are especially enthusiastic about sharing with you this particular transmission because it is going to leave you feeling that truth of who you are flowing through you. We are talking about love.
We are talking about the experience of love that is always available to you, and we want you all to recognize that. We want you to feel for the truth of who you are flowing through you because it is the ultimate experience to have in a physical body.
You are all channels of love, but you are not always allowing yourselves to align with that truth. There really are no good reasons to deny yourselves the experience of love, but you certainly have come up with quite a few over your many lifetimes. When you let go, you fall in love. When you let yourselves have the experience, it simply flows.
It's not something you have to work on. What you have to work on are the issues that get in the way of you fully feeling it and expressing it.
Now, oftentimes you take for granted that the other people in your life know that you love them, or you say the words, but you don't really engage in the emotion itself when you say them. So we are here now to encourage you to not only say the words, 'I love you,' but we also want you to direct the love that you are to the other person, or pet, or whomever, while you are saying it.
Make eye contact. Make physical contact. Make sure you are actually feeling love flow through you, and make sure you let everyone know that you feel it, that you are it, and that you are opening yourself up to allow more of it to flow because of them.
We are the Arcturian Council, and we have enjoyed connecting with you."
LAST DAY – Get a Private Session with The Arcturian Council (or any of the other beings I channel) for 50% Off. Enter Discount Code LOVE at Checkout
Purchase The Arcturian Council's book, Ascension: The Shift to the Fifth Dimension, on amazon here