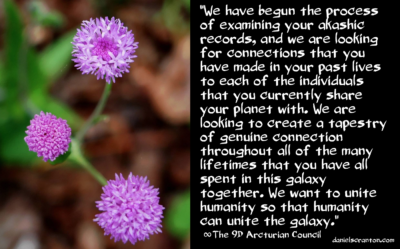 You Have Loved Everyone ∞The 9th Dimensional Arcturian Council
"Greetings. We are the Arcturian Council. We are pleased to connect with all of you.
We have begun the process of examining your akashic records, and we are looking for connections that you have made in your past lives to each of the individuals that you currently share your planet with. We are looking to create a tapestry of genuine connection throughout all of the many lifetimes that you have all spent in this galaxy together. We want to unite humanity so that humanity can unite the galaxy.
And the way we are looking to achieve this is by sending a transmission that will include every single one of those connections, every single moment where you will have looked at one of your fellow humans and felt the vibration of love within you. We are eager to complete this little project of ours and to transmit that energy to all of you.
We are eager to awaken within you the knowing that everyone on planet Earth, even those who are sworn enemies have at one time or another loved each other. You have all done so. You have all felt love within you at one time in your very long history for every other person that is on planet Earth right now. We know this already, and we are going to come up with the perfect transmission of energy to remind you.
When you are reminded of the truth that you are love, nothing else matters. Nothing that someone else has ever done or said or been can compare to the truth of who you all really are. We are just going to offer that reminder and then see what happens. We have so much faith in all of you that we know what the effect will be, but we are still eager to see it all playing out and to see you all feeling it once again.
We are the Arcturian Council, and we have enjoyed connecting with you."
https://danielscranton.com