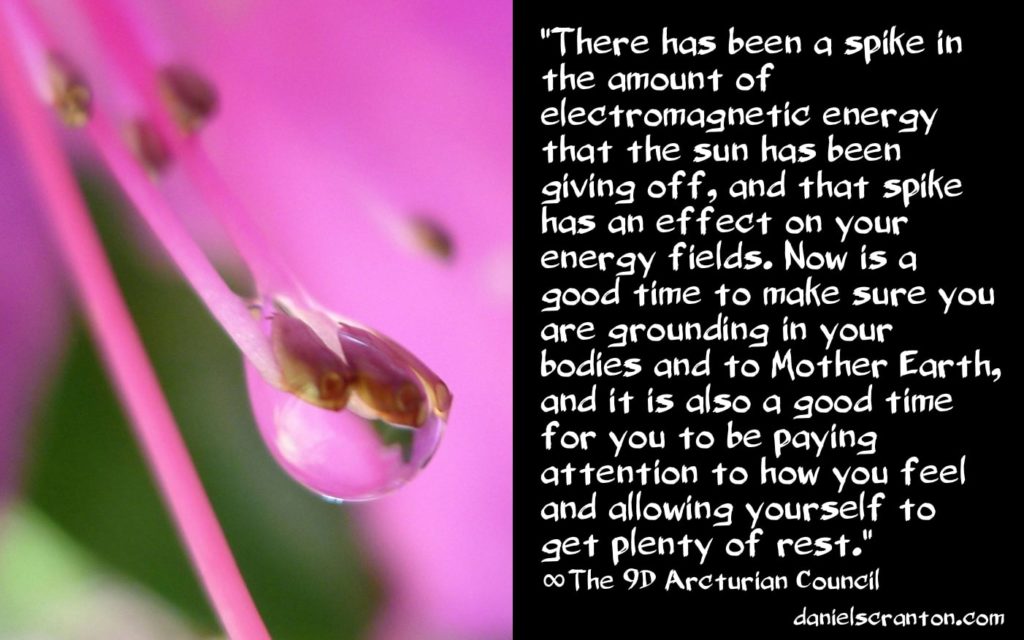 THE ENERGIES FROM THE SUN ∞THE 9D ARCTURIAN COUNCIL
"Greetings. We are the Arcturian Council. We are pleased to connect with all of you.
We are interested in observing how you are able to handle the recent surges of energy that have been coming to you from your sun. There has been a spike in the amount of electromagnetic energy that the sun has been giving off, and that spike has an effect on your energy fields. Now is a good time to make sure you are grounding in your bodies and to Mother Earth, and it is also a good time for you to be paying attention to how you feel and allowing yourself to get plenty of rest.
Of course, all of these things are good for you to be employing at all times, but in times like these, it is more important for you to be grounded, rested, in touch with your feelings, and hydrated. Now, what you will be able to do with these energies is up to each of you as individuals. They can assist you in clearing what you need to clear out of your energy fields, and they can also help you to receive more inspired ideas.
This is a good time for you to be very clear about what you want to create because these energies from the sun are filled with creative potential. Now, as you move forward and the sun returns to its normal output of electromagnetic energy, you are going to feel as though you have less energy to draw from. But you will welcome this lull, and you will have even more of a desire to rest, relax, and receive.
You are in a golden age right now, and it is a very important time for all of you there on Earth. So please do not underestimate how easily the tides can turn for all of you as individuals and as a collective. We expect to see a tremendous leap forward in the evolution of your consciousness in the coming weeks.
We are the Arcturian Council, and we have enjoyed connecting with you."
Get a Private Session with The Arcturian Council (or any of the other beings I channel) for 50% Off. Enter Discount Code LOVE at Checkout
Purchase The Arcturian Council's book, Ascension: The Shift to the Fifth Dimension, on amazon here