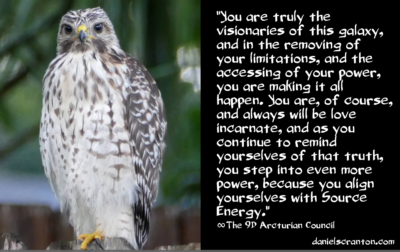 "Greetings. We are the Arcturian Council. We are pleased to connect with all of you.
We have a sense of what you have been summoning energetically, and we also have a sense of what timeline you are going to jump to next. We want to say that this is an important time in your evolution, but every time from this point forward will fall into that category. So instead, we are going to predict that you are going to make the jump to the timeline that you want to be on as a collective.
This particular timeline contains the energies that you've been summoning, and so much more. In other words, once you receive some of that which you have asked for from the universe, more will be given. More will be given because you will demonstrate your ability to handle the energy that you've summoned and to create a better reality for all.
Those of you who are truly awake know that you cannot just create for yourselves. You recognize the significance of being a part of a collective, and you empathize with those who are suffering. You feel their pain, and you want to help. Now, in the creation of a world where everyone has enough, where there is peace and harmony on planet Earth, you are also creating that throughout the galaxy.
So by wanting what you want, summoning the energy for it, and then receiving it, you are doing so much more than satisfying your ego. You are helping to create peace and harmony throughout the galaxy. You are helping to end all suffering and to usher in a golden age, an age where co-creating between extra-terrestrials and humans will be the norm, rather than the anomaly that you sometimes hear about.
You are truly the visionaries of this galaxy, and in the removing of your limitations, and the accessing of your power, you are making it all happen. You are, of course, and always will be love incarnate, and as you continue to remind yourselves of that truth, you step into even more power, because you align yourselves with Source Energy.
We are the Arcturian Council, and we have enjoyed connecting with you."