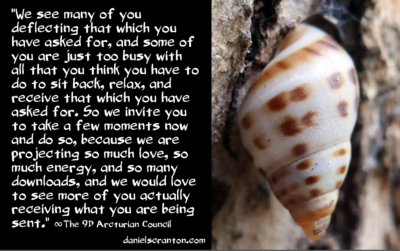 Receiving What You've Asked For ∞The 9th Dimensional Arcturian Council
"Greetings. We are the Arcturian Council. We are pleased to connect with all of you.
We are reaching out to humanity for a connection that we want to feel, just as much as you are reaching out for a connection to us and all of the other beings in the higher realms. We see you as our children, and we love you unconditionally. Therefore, there is nothing that any of you could ever do, or say, or believe that would keep us from loving you. Just imagine how much Source loves you and how free from judgment you all are.
We are pointing this out because we want all of you to deem yourselves worthy enough of receiving all that is coming to you from all of us in the higher realms. We want you to know that you don't have to earn it. You don't have to earn your place in the higher realms, and you don't have to earn what you ask for from us. We are happy to give and give and give some more.
But we see many of you deflecting that which you have asked for, and some of you are just too busy with all that you think you have to do to sit back, relax, and receive that which you have asked for. So we invite you to take a few moments now and do so, because we are projecting so much love, so much energy, and so many downloads, and we would love to see more of you actually receiving what you are being sent.
This is the time of the Divine Feminine. It is time for all of you to put down your tools, to set aside your practices, unless you really enjoy them, and to just let in that which is yours. It is yours because you are the creators of your reality, and it is yours because we love you so very much. We also want to see what you do with all that you have asked for. We are very curious about that.
We are the Arcturian Council, and we have enjoyed connecting with you."
https://danielscranton.com