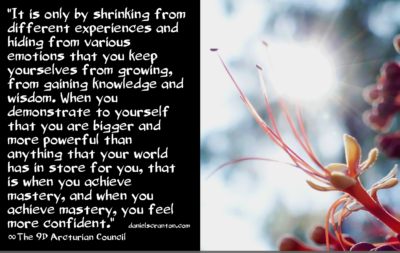 "Greetings. We are the Arcturian Council. We are pleased to connect with all of you.
We have the knowledge of having ascended to the ninth dimension. Experience has given us our wisdom. It is because we have moved through so many experiences that we have the perspective that we have. Your lives are filled with challenges. You are faced with problems, situations that seem beyond any scope of your control. You have the opportunity to experience so much more, however.
And when you let those experiences in, you are going to have so much more knowledge, so much more wisdom. The world as it is right now can look like a scary place. Certainly there are things that happen in your world that you would never wish upon anyone. And yet there they are. They exist as possibilities.
We recommend that you live your lives without fearing those unwanted experiences. And if you have to tell yourselves that having those experiences will bring you to a state of greater wisdom, then do that. Remind yourselves that everything you experience has some value to you. Everything brings you further along on your journey.
It is only by shrinking from different experiences and hiding from various emotions that you keep yourselves from growing, from gaining knowledge and wisdom. When you demonstrate to yourself that you are bigger and more powerful than anything that your world has in store for you, that is when you achieve mastery, and when you achieve mastery, you feel more confident.
When you feel more confident, you create the reality you want to experience with more ease and more joy. So you see, there is nothing here that is worth fearing, that is worth shying away from. There is nothing that you truly want to protect yourselves from, and in the embracing of all that is in front of you and all that is possible, you take on the perspective of Source. You become who you really are.
We are the Arcturian Council, and we have enjoyed connecting with you."