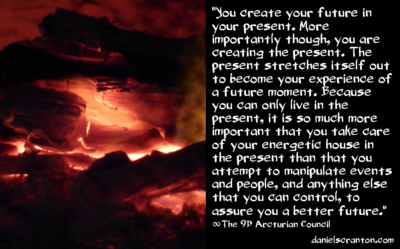 "Greetings. We are the Arcturian Council. We are pleased to connect with all of you.
You are able to predict the future of your experiences by paying closer attention to the energy that you are giving off in the now moment. You can predict it because you are creating it, and it behooves you to accurately read your own energy.
So if that is something that you are interested in, we suggest that you start reading your own energy. Take your energetic temperature several times throughout your day to determine for yourself what it is that you are aligning with.
Feel your future now. Now if you are afraid of something that is coming up in your future, then it is important for you to move through that fear in the present. You want to have processed that fear before you arrive at the time and place of the event you are so afraid of.
You can take that energetic temperature, and then you can clean house. When you clean house, you get rid of that which no longer serves you and you make room for more of what does serve you. That is how you begin the process of creating your future.
You create your future in your present. More importantly though, you are creating the present. The present stretches itself out to become your experience of a future moment. Because you can only live in the present, it is so much more important that you take care of your energetic house in the present than that you attempt to manipulate events and people, and anything else that you can control, to assure you a better future.
Start now. Start creating the future that you would like to see in the now moment, and remember that any future experience that has been foretold does not have to come to fruition. When you are a vibrational match to that future moment, you align yourself with that prediction. If you want better predictions for your future, start by taking care of your now and predict your own future by creating it. You do so with the vibration that you are holding in this now moment.
We are the Arcturian Council, and we have enjoyed connecting with you."