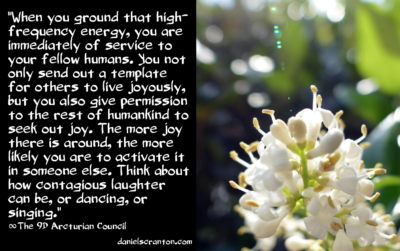 "Greetings. We are the Arcturian Council. We are pleased to connect with all of you.
We know that you are all doing very well, and yet we also know that it takes quite a bit of convincing to get you to believe that you are on the right track. Almost all of you believe that you should be doing more, that you should have more abilities, that you should feel more connected, or in some way that we have not mentioned, you should be better.
This is causing most of you to not really enjoy the journey that you're on, and so we want you to value joy. We want you to place a high priority on feeling it, on doing things for the sake of it, and on spreading it around. This has been a challenging lifetime to say the least, and you have many more challenges ahead of you. But why would you want to focus on the hard part when there's plenty for you to enjoy about this journey that you're on?
Here is why it is so important for you to seek out the joy vibration. You are all conduits of high-frequency energy. You are the ground crew for those like us who are sending the waves of energy, and we need you to be grounded, interested in your life, and open to receiving that which we are sending. The times when you are joyous are those times when you let down your guard and you let in more of the high-frequency energy that is coming to you from all parts of the galaxy and all dimensions.
When you ground that high-frequency energy, you are immediately of service to your fellow humans. You not only send out a template for others to live joyously, but you also give permission to the rest of humankind to seek out joy. The more joy there is around, the more likely you are to activate it in someone else. Think about how contagious laughter can be, or dancing, or singing.
Let yourselves experience the joy of life as it is right now so that you can let everything else that needs to unfold happen effortlessly, so that you can be those conduits of high-frequency energy that you volunteered to be.
We are the Arcturian Council, and we have enjoyed connecting with you."