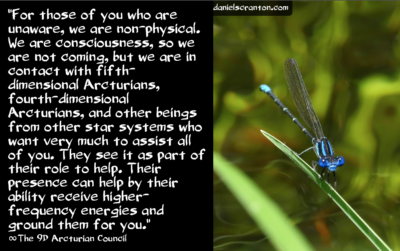 "Greetings. We are the Arcturian Council. We are pleased to connect with all of you.
We are continuing to evaluate the necessity of a bigger presence of extra-terrestrials on your planet. We are in contact with many extra-terrestrial beings who want to help and who want to become members of the ground crew with all of you, and we are weighing the help versus hindrance of their presence. You don't want to get into a situation with extra-terrestrial beings where you see them as your saviors.
For those of you who are unaware, we are non-physical. We are consciousness, so we are not coming, but we are in contact with fifth-dimensional Arcturians, fourth-dimensional Arcturians, and other beings from other star systems who want very much to assist all of you. They see it as part of their role to help. Their presence can help by their ability receive higher-frequency energies and ground them for you.
They can even blend in enough to be teachers and guides, and the advantage of their being on planet Earth with you is that they are incorruptible and beyond any scope of manipulation. Again, the downside is that they can interfere with your evolution of consciousness.
If you become fifth dimensional without doing what you need to do there, you could end up hurting yourselves, especially those who are still unawake at this point. There's a much greater likelihood that they would in fact create some serious problems.
And so we are looking down many different timelines and seeking the best possible scenarios for all of you. The E.T.s that we are in contact with will of course heed our guidance, and they will always be there supporting you in other ways, even if they are not all on the ground floor with you. And of course you have help from up here as well, in our dimension, not to mention all of the other helpers who are lending their energy, their compassion, their love, and their support.
We all know how long a journey this has been for you and how challenging, but to not worry because your ascension is guaranteed.
We are the Arcturian Council, and we have enjoyed connecting with you."