UNIVERSAL MOTHER MARY GIVES US HER DIAMOND BLUE CLOAK OF HOPE AND COMPASSION
---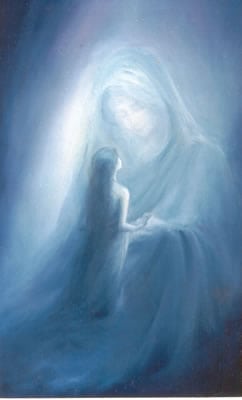 It is not an invisibility cloak, for you have to be seen and we want you to reveal your light to others. Channeled by Genoveva Coyle.
Greetings My sweet Annas! I AM Universal Mother Mary, I AM Mother of Hope, Mother of Compassion, and Mother of Change. I AM your Mother, and I AM Mother to all.
I come here today to speak about ways of service, ways of love, and about the promised way you are to be working on fulfilling your plan within My Divine Plan. Dear and brave children of My heart, you are strong and courageous! My sweet Annas, you are so much more powerful, magnificent and beautiful than you think you are!
I come to you to fill you up, to refill your cup, and to hold you in My heart and reassure you that you are doing phenomenal work on My behalf, right here and right now, in the midst of the most intense times of the chaos.
I know…for I am always with you…that there are times when your missions take you into the darkest places and your tender hearts are becoming fearful. For you are not in the habit of willingly going or wandering into places that spell danger and monsters. But when you find yourselves in such places, and when it happens to My brave warriors of the light, to the strongest of the strong that you are, this is not a mere accident, but something that you have decided and planned to do!
It is the same when you attract to thee those who know only how to take from others or those who need to bully others in order to hold onto their dear lives because they have forgotten the simple way of harmony and love. Send love to them, and to every little creature that has been forced, yes, coerced by others or by their own misconstructions, it matters not which one, because they have therefore been restrained and forced to live in the darkness.
Archangel Michael has given you powerful tools, mighty shields, and swords. Use them, dear hearts, at all times but mostly when you dive into the shadows! And now, I add to this by giving you my Diamond Blue cloak of hope and compassion, to cover yourselves, and at the same time to radiate to all the warmth, the kindness and the strength of the Mother. It is not an invisibility cloak, for you have to be seen and we want you to reveal your light to others. They will come to you, My bright angels in form because you carry the pure light and the hope; you have the map and the clear directions showing you and others the way back home, into the sweetness of My heart.
Understand that some of them have been waiting helplessly for eons, for thousands of years, for this opportunity to have real angels coming to them, to open the door out of the darkness and to light up a new path for them.
Do not be afraid of them, and do not run! Do not push them away, sweet angels! State your strict boundaries, and then beam the brightest light you can into their entire being! Allow your sweetest love to do the work of opening their hearts, to plant the seeds of remembering of their own light which they have within themselves. Allow your hearts to speak, for they will understand you!
Everybody hears true heart talk, regardless of how far they have traveled away from My heart, for they can hear My voice speaking and singing words of Love. Tell them about the new ways of life upon sweet Gaia. Speak to their hearts and then send them your love for as long as they require it. There is never any need to worry about yourselves getting depleted or lost, for you can come into My heart for more any time and literally in an instant, this is how strongly we are connected!
Go with My Love and go with My peace, for you are doing magnificently great! Farewell!
By permission.
©2018 Council of Love, Inc.